Mobile devices and applications are forcing organizations to re-evaluate their security models. With the rise of consumer devices, including BYOD, accessing enterprise infrastructures, the priority for IT departments is to identify the requirements needed to secure and support these devices.
Our Secure Mobility Resource Guide App is devoted to presenting product solutions, services and information to assist in addressing secure mobility and BYOD.


Download
Requirements:
Compatible with iPodTouch Gen 3+ / iPhone 3, 4 & 5 / iPad 1, 2 & 3 or iPad mini. Requires iOS 5.0 or later
What can you do with the Secure Mobility Resource Guide App?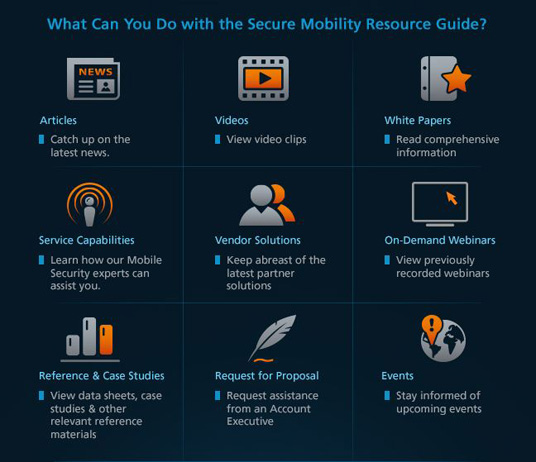 Functionality:
Freed from the internet. Once you've downloaded the app and the latest contents, new and updated files are pushed to your device and stored locally. No connectivity is required for ongoing access to those contents. Next time you connect, you can download the latest updates.
Build a Reference Library. Bookmark, edit, annotate and print documents for later reference.
Collaborate with colleagues. Send pertinent documents to others via email directly from the app.
Don't miss out on the latest information on secure mobility, download the Secure Mobility Resource Guide from the iTunes store today.