Why Choose Google for Education?
Google for Education makes it quick and easy to set up and manage this technology in the classroom.
Transforms IT with fast set-up and straightforward cloud management
Quickly deploy, manage, and set policies for 100 or 100,000 devices
Automatic updates and built-in multilayer security
Google Classroom helps teachers manage their classrooms seamlessly and paperlessly
Google for Education provides cost-effective solutions for schools.
Devices with budget-friendly price points that are shareable 1:1 or with an unlimited number of students
Lowest total cost of ownership on the market
G Suite for Education and Classroom are free education tools
Free 24/7 support for G Suite for Education
Designed for learning, and made for the classroom

Chromebooks are durable laptops that boot up in under 10 seconds.
Find the Chromebook that's right for you:

Wide range of shapes, sizes and price points
Next Generation Chromebooks have a stylus, world-facing camera and USB Type-C
Dynamic content and tools open a world of learning
Introducing the Chromebook Pilot
Get complimentary deployment or professional development services when you start a Chromebook pilot
Why try a Chromebook pilot

Whether you're looking to give students access to impactful digital tools or affordable devices, Chromebooks can bring the power of technology to the classroom. Perfect for sharable class sets or 1 to 1 programs, Chromebooks are versatile devices with dynamic content and G Suite built in. They're simple to use and manage, with 61% lower TCO than alternative solutions.

Services that make trying Chromebooks easy

For a limited time, US schools that have not yet tried Chromebooks can receive free deployment and professional development services when purchasing at least 30 Chromebooks and Chrome Education licenses while quantities last.
Upgrade Your Classroom Chromebooks and Get a Special Offer
There are many benefits to upgrading to the latest devices including more versatile form factors, improved performance,
expanded app availability, additional learning applications, and maintenance of full Google and manufacturer support.
Google has partnered with
Amplified IT
and
Clover Wireless
to put together two time-limited promotions to help your organization make the most out of their refresh opportunity:
1.
Complimentary Amplified Audit or Support Hours:
Qualifying US K-12 schools refreshing a minimum of 500 Chromebooks and Chrome Education licenses are eligible to receive a complimentary Amplified IT Audit or Support Hours to optimize their Google for Education implementation.
Offer period: October 16, 2017 - July 31, 2018 or while quantities last.
Note: Google is asking customers who express interest if they have an existing reseller of choice. The Google team will copy the reseller contact provided on replies to customers who are interested in this promotion so that PCM-G can be aware, and assist with their refresh purchase.
2.
Buyback for Chromebooks in Education:
Qualifying districts can get a quote for any of their used school devices and earn credits that can be applied to their next Chromebook purchase.
Call 1-800-625-5468
| | |
| --- | --- |
| | Jamboard for Education |
| | |
| | Bring the whiteboard to every desk |
| | |
Drive participation and engagement in the classroom by utilizing Jamboard and the number one laptop in K-12 Schools, the Google Chromebook. With the app, students can join the Jam and place images and notes on the board bringing the board closer than ever.
Visible, accessible learning

Google Jamboard is an engaging, natural feeling interactive canvas for students to express themselves at school.

Make real world connections

Bring a whole world of web into brainstorms with Google Search or invite outside contributors and experts to coauthor work with students using the free Jamboard app.

Portable and quick setup

It's easy to move between classrooms or study spaces, with just a single cable for power. Everything else is wireless, so you can start jamming right away.
Introducing the new Acer Chromebook Tab 10

The First Chrome OS tablet designed for education

The Acer Chromebook Tab 10 is the first tablet running Chrome OS designed for education,
promoting engagement and collaboration for an immersive learning experience.

Wide range of shapes, sizes and price points
Next Generation Chromebooks have a stylus, world-facing camera and USB Type-C
Dynamic content and tools open a world of learning
G Suite for Education

What is G Suite for Education?

G Suite for Education is a suite of productivity tools that includes Classroom, Gmail, Docs, Drive, Calendar, Hangouts, and more, and is designed with intelligent features that make work easier and bring teachers and students together to collaborate on schoolwork.
Collaborative Tools for Learning – Anywhere, Anytime, Any Budget
With G Suite for Education and Classroom
– a classroom management tool that simplifies creating, distributing, and grading assignments in a paperless way – teachers and students can work on their own or collaboratively, wherever they are, and on any device. Whether working in a team on a class project at the library, or writing an individual paper at home, classwork can be accessed and saved to the cloud for further updates or evaluation by the teacher. G Suite is provided to schools at no cost to provide needed tools for the digital classroom.
The Classroom Has Been Simplified
A free solution for all of your educational needs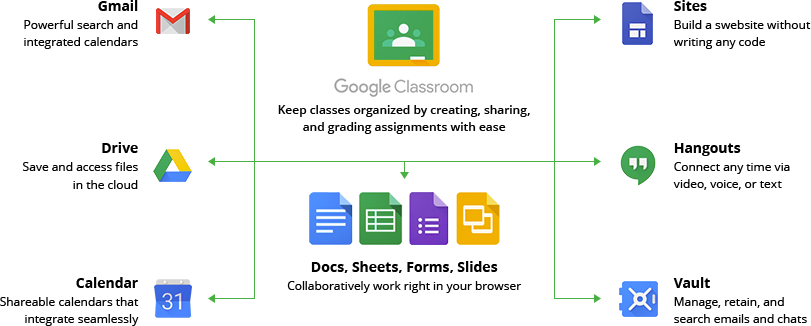 PCM-G Provides White Gloves Services For Chromebooks
PCM-G provides services to help you get your devices up and running right out of the box. We provide services such as planning, design, and set-up as well as asset tagging and support staff
White Glove Plus Services

Adding to Existing Deployments?

Already have Chrome deployed in the classroom but looking for a simpler way to get new devices and users up and running? PCM-G's White Glove Service for Chrome prepares devices for teacher or student to use right out of the box. We will enroll your new Chromebook in the school's Admin Console and, ensure all updates and school personalization has been applied. PCM-G's etching and asset tagging service can help ensure Chromebooks are easily identifiable with custom school logo, name, and property info. Preparing Chromebook for use upon delivery greatly reduces work required by the onsite technical staff and improves the end-user experience.
New Deployment

Google Chrome Admin Console – Planning, Deployment, and First-Time Setup. Have you decided to introduce Chrome in the Classroom but are not quite sure where to start? Planning, design, and setup are all really important steps in the process, and need to be done correctly to ensure a successful deployment. PCM-G can help your school successfully introduce Chromebooks in the classroom by removing the guess work and empowering your team.

PCM-G will work with your school's network team and school administrators to design and setup the Admin Console with focus on developing Organizational Units, Classes, and Access rights. Schools new to using G Suite for Education will find value in leveraging PCM-G for the initial setup, and we will train your support staff during this first-time setup, providing guidance and demonstration of how to administer the domain and its settings.
Chromebook Proof-of-Value Bundle for Pilot Projects

Proof-of-Value Bundles are a sure path to get any new Google Chromebook Project off to a successful start. The bundle includes 12 Chromebooks with a 1yr Warranty, storage/charging cart, wireless access point with power injector, White Glove device enrollment, Chromebook Admin Console, Admin Console setup and consultation, and 2-Day Onsite Teacher-to-Teacher Training. This will get the technology in the hands of teachers and train them to tie the technology to their curriculums, enabling a successful 1-to-1 Pilot.
About PCM-G
PCM-G has been serving the technology needs of Public Sector customers worldwide for nearly 30 years. Through a range of contract vehicles and a dedicated support team, we ensure your project is a success, on time and under budget. Our innovative IT solutions offerings for the Public Sector include Cybersecurity, Cyber Supply Chain Risk Management (C-SCRM), Secure Mobile Computing, Data & Predictive Analytics, High-Density Wi-Fi, Cloud Computing, Change Management, Healthcare, and the Digital Classroom. PCM-G also offers managed and professional services, IT and infrastructure consulting, and system architecture
design and management solutions.
PCM-G actively recruits military veterans to join the company. PCM-G headquarters are located in
Herndon, Virginia, just outside of Washington, D.C.
More than an IT Provider - We're Your Technology Partner!
Since 2002, PCM-G has been a leading provider of IT products, services, and solutions to government agencies, educational institutions, and healthcare facilities. We provide access to over 300,000 IT products like tablets, laptops, desktops, servers, storage, and networking from leading manufacturers like Cisco, HPI, Apple, Adobe, Lenovo and Microsoft. With powerful eProcurement tools, comprehensive software licensing solutions and dedicated Account Executives, it's easy to get exactly what you need to tackle your technical challenges.

In addition, we offer world class procurement and logistics, IT consulting, and implementation services delivered through over 1200 technical professionals. Whether you want to deploy tablets securely or move your data center to the cloud, PCM-G is here to make it happen. Our Services experts will collaborate with you to understand your requirements and provide tailored services to allow your organization to lower costs, increase agility, improve efficiency and succeed in today's global economy and beyond.
| | | | |
| --- | --- | --- | --- |
| Our Company | | Support | We Provide |
| | | | |
We proudly welcome American Express® Cards

13755 Sunrise Valley Drive, Suite 750, Herndon, VA 20171
1-800-625-5468 | © 2016 PCM-G, Inc.