Star Teacher Awards First Round Winner Announced!
Teresa Pavloff, a kindergarten teacher from Michigan City's Edgewood Elementary school, was the winner of the First Round of the Star Teacher Awards. She received a $2,000 award to AdoptAClassroom.org to purchase much-needed classroom supplies including additional technology to support her individualized learning program. As part of PCM-G's commitment to education, the Star Teacher Award is a quarterly program developed to showcase three exemplary teachers from around the country. Congratulations to Teresa and her students!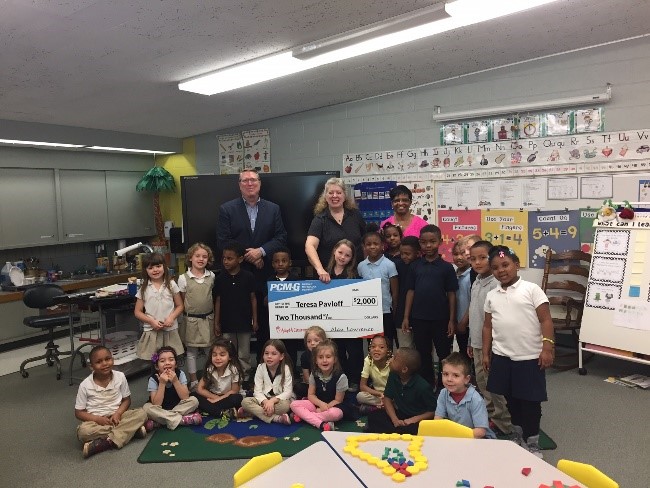 PCM-G President, Alan Lawrence, presented the award to Teresa at Edgewood Elementary School in Michigan City, IN.
For more information:
Read Media Alert
Read Article from the Michigan City News-Dispatch
Now it is time to introduce the next 3 teachers for our Q2 Star Teacher Awards contest, and we want your participation to help select the winning teacher.
After reading about the 3 teachers below, and watching their videos, you can cast your vote for the teacher you feel is most deserving to win. Please note that you can vote a maximum of 3 times each quarter. Once the quarter ends, the teacher with the most votes cast by our customers and visitors to
pcm-g.com
will win a $2,000 shopping spree to purchase supplies at AdoptAClasroom's website. The 2 teachers who are runner-ups will get $600 to shop for classroom supplies.
The 4 quarterly winners will then be in a contest the first quarter of 2018 for a technology Grand Prize to be awarded in March.